How Colon Hydrotherapy Works and its Benefits.
In today's world, the food we eat, the stress we experience, and other environmental factors can have a huge impact to our health.
Therefore, we have brought a service to you that can help assist the detoxification process, enhance immunity, and improve the overall function of the body.
If you suffer from the following issues or would like to use this therapy as a preventative measure to better your health, please contact us to book an appointment.
LOW ENERGY LEVELS OR FATIGUE
LOWER BACK PAIN (BOWEL RELATED)
DIFFICULTY SLEEPING/ INSOMNIA
HEADACHES (BLOWEL RELATED)
Constipation is one of the most common conditions that affects people of all ages, either acute or chronically. Chronic constipation can cause several major health issues.
What happens when you're constipated?
The faecal matter that is stuck in the large intestine can cause inflammation of the bowel, which can cause a reaction that enhances bloating, excessive gas and so on.
The mass hardens over time and becomes hard, stuck mass, causing inflammation and fermentation.
Toxic substances that are created in your bowel, can travel into the blood stream (we call this phenomenon leaky gut syndrome) that could potentially cause irritability, anger, headaches, bad breath, unpleasant body odour, low energy and more.
Colon hydrotherapy is a very effective method in helping cleanse the large intestine from waste that is impacted and helps stimulate the large intestine by strengthening the muscular wall and therefore, enhance its function to move the faecal matter faster out of the body.
How does Colon Hydrotherapy Work?
Colonic hydrotherapy is a method where purified warm water is introduced into the large intestine through a disposable and sterilised thin tube (the thickness of a pencil).
The purified water gently fills the large intestine by using gravity, which in turn stimulates the natural urge to go.
The faecal matter that is excreted comes out in liquid form and flows down the piping system. You will be able to view it if you want through a screen as shown in the picture.
Throughout your session, that is between 45 minutes to an hour long, you will expect to see new and old faecal matter, mucoid plaque and potentially even worms such as tape worm.
It happens more often than you think! Seeing these creatures might seem scary, but it's better out then in!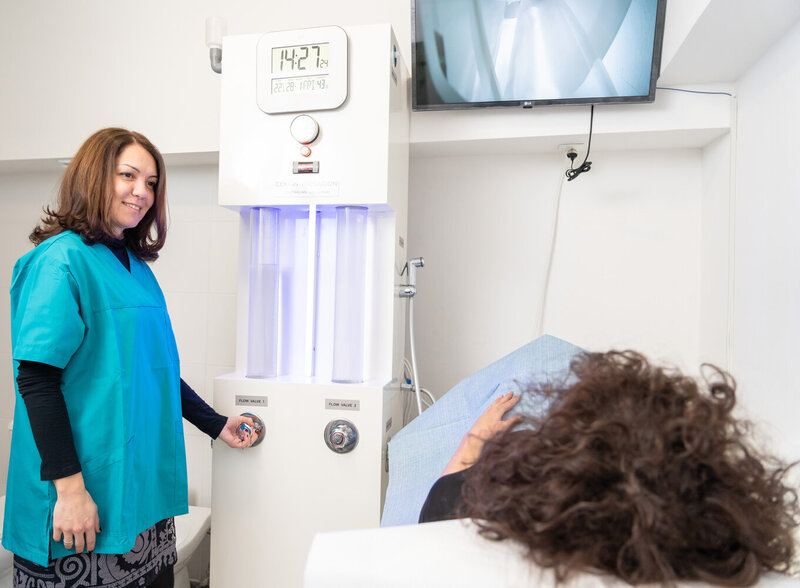 A specialised therapist will be there to explain the process before the session and will give you time in privacy to place yourself onto the machine.
The therapist will always be on standby at the office, and if you need any assistance, water, tea or another song to listen to, they will attend to your needs promptly.
If you have any more questions or would like to book an appointment, please do not hesitate to call, or email us with the details below.